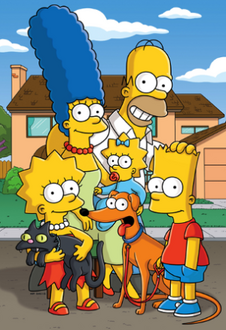 The Simpsons is an American animated television series created by Matt Groening for the FOX Broadcasting Company. The series is a satirical parody of a working-class American lifestyle epitomized by its eponymous family, which consists of Homer, Marge, Bart, Lisa, and Maggie. The show is set in the fictional city of Springfield, and lampoons American culture, society, television and many aspects of the human condition.
The family was conceived by Groening shortly before a pitch for a series of animated shorts with the producer James L. Brooks. Groening created a dysfunctional family and named the characters after members of his own family, substituting Bart for his own name. The shorts became a part of The Tracey Ullman Show on April 19, 1987. After a three-season run, the sketch was developed into a half-hour prime time show and was an early hit for Fox, becoming the first Fox series to land in the Top 30 ratings in a season (1989–1990).
For more information about the Simpsons, visit here or here.
The Simpsons is the only family to appear in every episode of Geo TV.
Appearances in Show
Edit
In "The Geo Life" The Simpsons' First appearance in Geo Guy's House, and Homer Shouted "D'oh!"
In "Lisa My Dear" Geo Guy mentions The Simpsons episode "Mr. Plow".
In "Baby Geowie Goes on a Trip" Rico Talks Mr. Burn about the Good News.
In "Big Sweet and Sexy" Bart Simpson appeared writing on the chalkboard.
In "Geo Guy vs. Jeremy" Once the Geo Guy saw Jeremy, the opening seems to be parodied with the same music, and the factory to the top left.
Homer appears in "Midnight Mans" at O.J. Simpson's "Welcome to Quahog" party, as the Simpson Mayor Jim was referring to. He uttered his catchphrase "D'oh!".
In "Simpsons on the Geo TV" The Simpsons Characters Appears in Every Town.
In "Eat Food Eat People" Homer appears for pick up Charlie Brown to the People Food Eater, When Charlie goes in it, Charlie Turns a Chicken for eating Blood, and Homer Eat The Chicken, and Geo Guy Pick up homer for eating. and Geo Guy eat him and Burped.
In "I Hate Babysitters" Comic Book Guy from The Simpsons made a cameo appearance.
In "How Mr. God Goes Crazy on the Bus" Ned Flanders from The Simpsons makes a cameo appearance along with Rico.